By Mike DuBose
When I observed people wearing masks overseas, I thought, "I'm glad Americans don't need them." Then, the COVID-19 virus infected our nation like wildfire. Scientists are learning more about how to effectively prevent and treat the highly-transmittable coronavirus which impacts infected people differently. The worst may be yet to come as the COVID-19 numbers decrease, new variants spread, and we let our guard down.
Fortunately, vaccines are slowly making their way into the population (18 percent Americans have been vaccinated). Experts report if 80 percent of the population is vaccinated or has been infected, resulting in "Herd Immunity," life could return to safer times by late 2021. A recent Gallup poll found 71 percent of the population will take vaccines, up from 50 percent in September. COVID-19 prevention measures, including wearing face masks, have become politicized.
Misinformation has spread about masks, with some thinking they are ineffective or harmful. Others have suggested the virus is a hoax, masks are not needed, and government mandates for wearing masks violates individual rights. However, research proves, while not completely foolproof, high-quality masks do prevent the spread of COVID-19.
Many people, including me, don't like wearing masks. It is difficult to see people's identity and emotions. They are uncomfortable, make it a struggle to breathe, and often muffle one's voice. However, because the coronavirus usually enters the body by others' heated breath inhaled through the nose and mouth, face masks play critical roles in preventing virus spread. But which masks are effective in protecting against COVID-19? John Hopkins University recommends fabric masks have at least three layers; we recommend five. Light should not pass through the fabric easily. Cloth and decorative masks' protection are less effective than medical-grade masks; however, multilayer cloth masks, made of water-resistant fabric with a high number of threads and fine weave, provide reasonable protection. Scientists report masks with two layers of cotton, combined with a third layer of synthetic material, are good homemade versions. Avoid bandannas and gaiters—as noted by Johns Hopkins University, "A bandanna tied around the face does not work as well as a mask because of the bottom opening. A gaiter (a thin, stretchy knit fabric worn around the neck and pulled up to cover the nose and mouth) is usually unable to provide adequate protection." Likewise, only wearing a plastic, see-through, face shield without a mask proved to be mostly ineffective.
The highest-quality, hospital-grade face coverings that resist COVID-19 are US-made "N95" respirator five-layered masks (without an exhale valve that infects others) which screen out 95 percent of germs. The alternative China-Certified KN95 mask has similar qualities to the N95 mask. Some Chinese sell inferior masks in convincing packaging, claiming they're N95/KN95. Certified KN95 masks include certification numbers/dates imprinted on mask's exterior: GB2626-2006, GB19083-2010, or GB262-2019. Based on our extensive research, we use US government-approved POWECOM KN95 masks found on Amazon.com ($15-$20 for 10).
The bottom line: We can see the light at the end of the virus tunnel, but we should continue precautions like wearing masks, social distancing, taking vaccines, avoiding touching public surfaces like doorknobs, and frequently washing/sanitizing our hands. We shouldn't fear the virus; rather, respect its dangers to avoid getting sick and/or spreading it to others. Let's all work together "as one" to get our lives back to normal.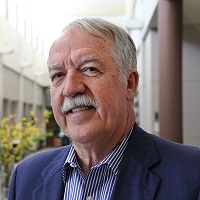 Mike DuBose has been an instructor for the USC's graduate school since 1985, when he began his family of companies, and is the author of The Art of Building a Great Business. Visit his nonprofit website www.mikedubose.com for a free copy of his book and additional published business, travel, and personal articles, as well as health articles written with Surb Guram, MD.