By CT McDonald
For now, Dutch Fork's varsity football state championship wins stand at six, total, after finishing the season last week as state runner-up behind Gaffney in the 5A state finals.
The Silver Foxes (13-1 overall) took their first loss of the season against the Indians (15-0) after Gaffney's fourth-quarter come-from-behind rally to win the game. Dutch Fork held a 19-7 lead going into the final period, but then the Indians took over and held the Foxes scoreless while putting 15 additional points on the scoreboard to take home the 22-19 victory.
According to South Carolina High School League (SCHSL) partner MaxPreps, it was statistically a close game with a few exceptions: Dutch Fork had nine penalties for a total of 80 yards while Gaffney had six for a total of 30 yards. And the Silver Foxes racked up 444 total yards to Gaffney's 374 yards.
Dutch Fork's win/loss record in state championship games now stands at 6-3, going back to the 2012 – 2013 season when the Silver Foxes lost to Gaffney in their first appearance in the state finals, and coming forward to the past five seasons when Dutch Fork won the 5A title every season since the beginning of the 5A classification by the SCHSL.
This year also marks the first time the Silver Foxes have lost a game since the 2017 loss to Fort Dorchester in their second game of that season.
And while last week's state finals completed the high school football season, Dutch Fork was not the only District Five varsity team to make the playoffs.
Irmo made it to the 4A quarterfinal round after defeating York and Westside in the first two rounds, but then the Yellow Jackets lost to Greenville in the quarterfinal round while posting the best postseason performance in recent years.
Chapin also made the 5A playoffs and beat Carolina Forest in the first round before being eliminated by Fort Dorchester in Round Two.
Now it's basketball and wrestling, and those teams are well into their regular-season games with Christmas holiday tournaments coming up soon for some.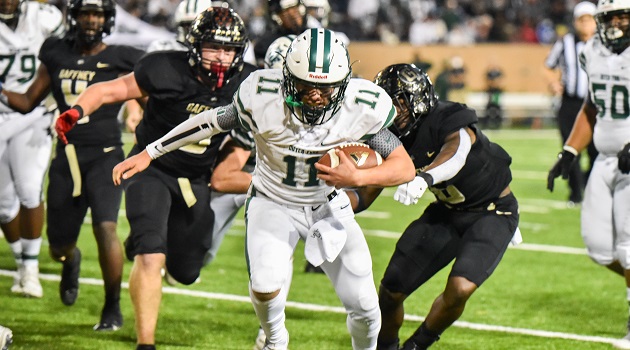 The Dutch Fork Silver Foxes faced off against the Gaffney High Indians for the 2021 5A South Carolina Football State Championship December 4. The Silver foxes were defeated 19-22. Photos by Chris Record, GoFlashWin.com