By THOMAS GRANT JR.

Add national softball champion to the list of accomplishments for Irmo softball infielder Precious Bross.
The All-State University of Georgia commit participated in the 4-day Jennie Fitch Classic which took place in Seattle, Wash. She was a member of Toni's Promise, a team put together by The Players Alliance who selected All-Star players from around the country.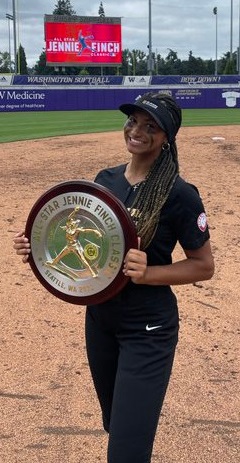 Named after Toni Stone, the first African American female to compete in the Negro League, the 12-player team not only claimed the championship trophy by going 6-0 at the Classic. Toni's Promise dominated the field, outscoring its five opponents 76-4 and posting two shutouts.
Bross was a key contributor to the offense, batting .450 with 11 RBI, 11 runs scored and a solo home run. Along with playing with a talented squad was representing someone as inspirational as Stone.
"Through this team, we learned that Toni was extremely impactful," Bross said. "She paved the way for girls that look like me and others to follow their dreams and set a step stone to build on in doing so. She was the first woman to play baseball professionally. She not only broke gender norms, but color barriers as well, and for that, I thank her.
"We were able to meet some of Toni's family and they shared her same fire and passion. This team allowed me to compete for something bigger than myself and continue to pave the way for younger girls with dreams like me."
Playing on the west coast took an adjustment to Bross. The Seattle temperatures would fluctuate from a chilly 50 degrees to "hot and humid" as the day progressed, according to Bross.
While Bross' teammates were selected from throughout the country by The Players' Alliance, it did not take long for them to gel into an efficient machine. Toni's Promise swept through the pool play at Lower Woodland Park ballfields, rolling past KC Urban Youth Academy (9-1), Compton MLB Youth Academy (15-0), Cincinnati Reds Youth Academy (17-1) and New Orleans Louisiana (12-0).
"Fortunately, our team gelled very quickly," Bross said. "I feel like this was because we all were able to relate in some way to one another. We all were able to at least share one large similarity, playing as a female with color. We also all know what it takes to play at an elevated level and compete in such a way. This made us know when to turn it up and step on the gas, and when we could, take a second for ourselves.
"Our energy that we created in our dugout was truly unmatched, and I honestly believe that helped us beat teams before even starting the game. I am a utility player, meaning I can be put into any position and play it. This week, I played third base the entire time to help my team, even though that isn't my primary position.
Toni's Promise continued to steamroll the competition in the finals. It opened with a 16-1 victory over the Washington Nationals Youth Academy, a game in which Bross drove in three runs. Scored three times and had her lone home run of the tournament.
This set up a rematch with Compton MLB Youth Academy in Monday's final at the University of Washington. Once again, Toni's Promise jumped out to an early lead, with Bross driving in a run on a sacrifice fly.
Toni's Promise went on to win the game 7-1 and the tournament. Afterwards, Bross credited her co-coaches Dana Stephens and Tiffany Johnson.
"I could not have asked for better coaches for this opportunity. They are amazing. Even in the short time knowing us, they allowed us to bring what we had to the table and use it to bring our team success."
Bross' busy summer continues with more tournaments with her traveling team. She also plans to coach younger softball players in tournaments at Panama City Beach and Myrtle Beach before returning to Irmo for her senior year.