Irmo Town Hall is pleased to spotlight the artwork of Kimber Carpenter.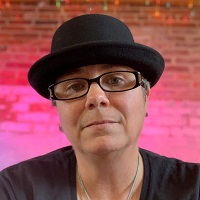 From Carpenter: "I am a self-taught acrylic and mixed media artist from Irmo, South Carolina. I love creating art with bold colors and interesting content.  My love for music, the arts and the beauty of the human spirit is poured into every piece I work on and gives me daily inspiration to create.
I have been a graphic designer for many years and spent the majority of my career in the printing industry.  I started using what I knew about color, balance and visually appealing subject matter to create art that represents my personality and love for design and art.
Prior to the pandemic, I taught classes on fluid art painting for a year and a half.  I worked with schools, companies, organizations, churches and kid's groups and more to provide fun, informative classes around the Columbia area. 
During the pandemic, I turned my focus to creating art for exhibitions. I have exhibited at Rob Shaw Gallery, Land Bank Lofts, Aloft Hotel, NoMa Warehouse, 14 Carrot Foods, Musician's Supply,  State & Frink Meeting Space, Pitter Platter, Nicky's Pizzeria, Carolina Imports, Cottontown Art Crawl, Melrose Art in the Yard, Autumn Faire Arts Festival, The Artist Coop, Still Hopes Episcopal Home, Irmo Chamber of Commerce and Irmo Town Hall.
Currently, I am working on a new series of retro space futurism to exhibit at upcoming events.  They include mixed media work as well as hand-painted ray guns and robots.  My childhood love affair with science fiction has inspired me to create colorful, whimsical space art that I absolutely love making." Facebook: @swirlygirlarts  Instagram: #swirlygirlartssc_
If you are a local artist interested in getting involved and being added to the calendar, please contact the group at [email protected]; if you are a business owner who would like to host local artwork at your place of business, please reach out at the same email address.