The Mungo Homes Foundation held its first-ever Week of Giving December 6 – 10.
"We have a vision of wanting to leave the world better than we found it. Helping those less fortunate is a really big step in that direction," CEO Steven Mungo said. "We can make all the money in the world but it doesn't make any difference if we don't give back."
This year the Mungo Homes Foundation and Team Members supported the following charities:
In conjunction with EmmanuWheel, more than a dozen Columbia Team Members built a ramp for 80-year-old "Miss Sara," a mobility-impaired Lexington County resident who had not left her home since May. Mungo VP Jon Buzzell also surprised EmmanuWheel Managing Director, Chris Sharpe, with a $20,000 check to further the mission of providing ramps for those who cannot afford the cost.
"Thank you so much, Mungo Homes, for supporting Emmanuwheel," Sharpe said. "We couldn't do what we do without supporters like you. We are so appreciative. Thank you so much for sending out such a great crew of builders and for the generous donation."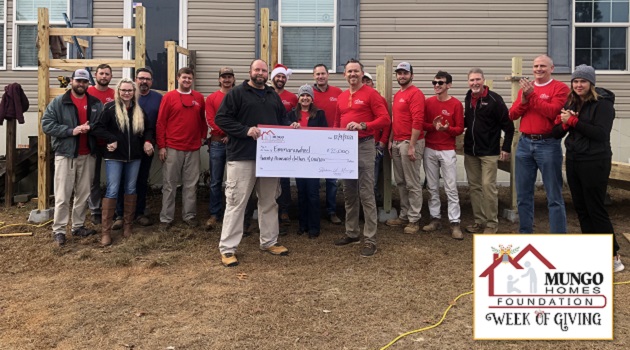 For more information visit http://www.emmanuwheel.org.
The Free Medical Clinic was the recipient of $10,000.
"The Free Medical Clinic is grateful for the contribution from the Mungo Homes Foundation, and their support in our continuing mission to meet the healthcare need of the most vulnerable among us," Executive Director Freddie Strange said.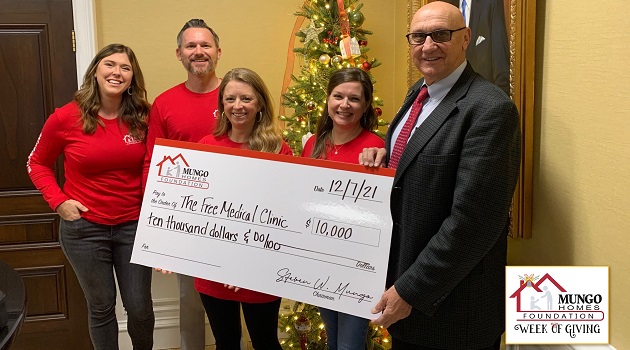 For more information visit https://www.freemedclinic.org.
Families Helping Families was the recipient of a $5,000 donation to help assist families in need of food, clothing, and Christmas gifts. In addition, Mungo Team Members used company-allotted paid volunteer time to shop, gift wrap, and staff the warehouse.
"Thank you, as always, to Mungo Homes for the many years of support," Program Director, Nell Killoy said.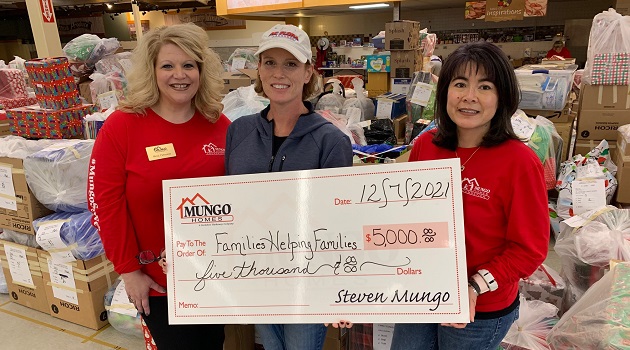 For more information visit https://fhfmidlands.org.
The Mungo Homes Foundation was established in 2021 with the sole mission of improving the communities in which Mungo builds by providing economic, educational, health, housing, and emergency hardship support for events such as natural disasters. A portion of each home sold is contributed to the Foundation and is invested in the local community of that home.
Week of Giving recipients were nominated by local Mungo Team Members and selected by each local Mungo Homes Foundation Board of Advisors based on qualifying criteria.
Charitable organizations may be considered by invitation only.