By CT McDonald
The Dutch Fork High School Silver Foxes beat the Spartanburg High Vikings 63-14 on November 18.
Dutch Fork is headed to the Class 5A football upper state semifinal round this week against the defending state champion; Gaffney.
The Silver Foxes will travel to Gaffney to play the Indians on their home field at 7:30 pm Friday, according to the schedule.
Dutch Fork — now at 12-1 overall — lost only one game last year; The state championship game versus Gaffney 22-19. And the Silver Foxes have lost only one game thus far in the current season; St. Frances Academy 26-7.
The Indians stand at 9-3 going into this week's semifinal round, but last year they were undefeated for the entire season.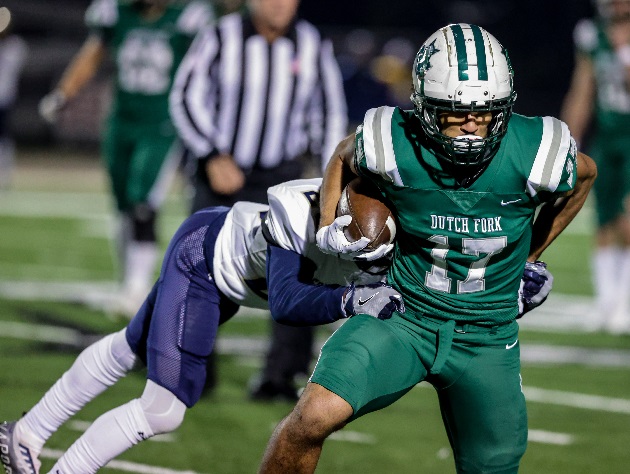 According to South Carolina High School League (SCHSL) records, Gaffney holds the title of the most state championships (17) in school history going back to 1927, and Dutch Fork — with six state titles starting in 2013 — holds the title of the most consecutive state championships (5) from 2016 – 2020.
Last year's loss in the 5A state title game was the first in that classification for Dutch Fork, and the Silver Foxes set a goal to bring that title home again this year. They are well on the way to reaching that goal with just two games to go.
First they have to get by the Indians this week, and if they do, waiting in the wings to take them on in the state title game will be the winner of this week's lower state semifinal round; Fort Dorchester (10-3) or Summerville (11-2).
This time when the Silver Foxes and Indians play in the playoffs it won't be a battle of undefeated teams to determine the state championships as it was last year, but it will determine which one gets to play for that title again this year.
If you're going, the National Weather Service forecasted early this week that Gaffney area weather on Friday would be in the mid-50's during the day and the mid-40's that night, with a 70 percent chance of rain during the day and a 50 percent chance that night.
Photos by Chris Record, GoFlashWin.com