A Message from an 'Outsider'

My name is LaFran Horn, better known as "Randy's Sister Fran". I live in Pennsylvania, thus an Irmo 'Outsider'. On August 22, 2020, my brother and longtime Irmo resident, lost his battle with cancer. Whether or not you knew Randy Jones, this message of gratitude is for you.

As a frequent visitor over the past three years, I have witnessed an incredible community of kindness and selfless positive energy to help one another. Everyone is part of this "Irmo Spirit", Randy was a fortunate recipient of it, and his family is deeply grateful. Even if you and Randy
never met, you were part of his passion to make Irmo the greatest community possible for everyone. Through his work with the Chamber, Okra Strut Commission and Studio 3P, Randy left his thumbprints on Irmo and in doing so, my brother became a better person. If he were
here, he would thank each of you for giving him that opportunity, and he would urge you to do your part to keep the Spirit of Irmo beautiful for generations to come.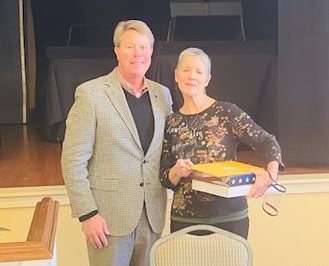 A special thank you goes out to the many who loved and supported Randy, and to the Chamber for closing out 2020 with a beautiful tribute to honor his impact on the community he loved so deeply. Randy was a humble man and was surely shaking his head modestly while smiling upon us with gratitude.

Blessings to all in 2021 from "Randy's Sister Fran"