JANUARY 7, 1958 – JUNE 30, 2023
Vi Humphries-Racine, lovingly known as Vi, passed away peacefully on June 30, 2023, in Chapin, SC at the age of 65. She was born on January 7, 1958, to Betty and William "Bill" Gunnells. Vi was preceded in death by her parents, but their memory will forever be cherished.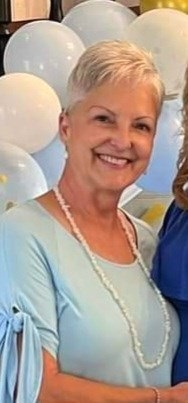 Vi was a vibrant, spiritual, and grateful woman who radiated joy and positivity. She had an unwavering passion for the Lord, her family, and life itself. Vi's infectious laughter and genuine love for others touched the hearts of everyone she encountered. She never missed an opportunity to express her love and appreciation, ensuring that those around her felt valued and cherished. Vi's absence leaves an immeasurable hole in our hearts, but we find solace in knowing that she has reached her final destination, where she undoubtedly found eternal gratification.
Vi's educational journey began at Hartsville High School, where she graduated in the Class of 1976. She further pursued her passion for media arts at the University of South Carolina, earning a Bachelor's degree in 1979. Vi's career was marked by her accomplishments and dedication. She co-owned The Gallery Studio in Columbia for 18 years. She moved on to the Irmo News where she spent a special decade of her career and later served as a business license and zoning clerk for the Town of Irmo until her retirement. Her contributions to her profession and community will not be forgotten.
Chapin Christian Community Church held a special place in Vi's heart, where she found solace and strength in her faith. Her unwavering devotion to her beliefs was an inspiration to all who knew her.
In her free time, Vi found joy in various hobbies. She had a deep love for the outdoors, especially the lake, and enjoyed gardening. Her greenhouse, filled with cherished memories and her green thumb's creations, was her sanctuary, aptly named the "Garden of Grace."
A celebration of Vi's life will be held on Sunday, the 16th of July, at 3:00 pm at Chapin Christian Community Church in Chapin. Following a short memorial service, the family will be available to receive visitors.
In honor of Vi's memory, the family kindly requests that donations be made to Harvest Hope or St. Jude on her behalf. These contributions will continue Vi's legacy of compassion and generosity.
Vi Humphries-Racine's vibrant spirit and unwavering love will forever be cherished by her beloved husband, Ray Racine, her sons Coleman and Cory Humphries, her sister Shelley Bowen and her husband Michael Bowen, her nephew Ryan Bowen and wife Jen Bowen, her niece Hanna Bowen, and her niece Ali Simmons and husband Bryan Simmons. She also leaves behind a multitude of friends and acquaintances, each touched by her light and love.
Vi's departure from this earthly realm is a profound loss, but her legacy of joy, love, and faith will continue to inspire and uplift us all. May her soul find eternal peace and may her memory be a blessing to those who knew and loved her.
Fond memories and expressions of sympathy may be shared at www.dunbarfuneralhomedutchfork.com for the Humphries-Racine family.