Martial arts tournament champion receives expedition leadership award
By Chris Carter
Bruce Brutschy, noted self-defense and fitness instructor and a member of the S.C. Black Belt Hall of Fame, was presented The South Carolina Seven (SC7) ENVIRONMENTAL RESILIENCY LEADERSHIP AWARD, for his overall work, event guidance, and participation in this year's SC7 Expedition and previous year's expeditions.
Largely responsible along with Richland County Sheriff Leon Lott for bringing together a group of Midlands-area law enforcement leaders who participated in a hike along the west side of the Congaree River in Cayce-West Columbia, S.C., July 13, Brutschy orchestrated the hike-gathering for SC7 and follow-up celebration at Savage Craft Aleworks.
"A fighter, a lover, a friend to all, and a man who is wholly capable of bringing together a diversity of interests and people for a common cause and goals like those of SC7: That's Bruce Brutschy," said SC7 leader Dr. Tom Mullikin, chair of the S.C. Floodwater Commission. "That's also why anything with which his facilitating leadership is associated is so successful. We've seen it on the SC7 Expedition trail this year. We saw it once again when we recognized our law enforcement leaders in the Midlands this year."
The July 13 hike was led by Mullikin, SC7 logistics officer and SC7 leader Michelle McCollum, S.C. Lieutenant Governor Pamela Evette, and Brutschy.
Among those participating law enforcement leaders were Sheriff Lott; Columbia Police Chief Skip Holbrook; Cayce Police Chief Chris Cowan; Kershaw County Sheriff Lee Boan; West Columbia Assistant Chief of Police Bruce Wade; Captain Daniel Floyd, representing the Newberry County Sheriff's Office; and John "J.J." Jones, executive director of the S.C. Law Enforcement Officers Association. Each officer was presented with a tree from SC7 officials.
Brutschy, a recipient of numerous honors including a S.C. Senate commendation and countless awards and trophies for local, regional, and national karate tournament victories, is past president and current co-chair of the West Columbia Police Foundation.
"We would not have been able to pull off that day [Thursday, July 13] without his sterling leadership," said McCollum, who also serves as president of the S.C. National Heritage Corridor (National Park Service). "Bruce's innate ability to bring everyone to the table is a reflection of how much Midlands-area sheriffs and police chiefs respect him and his reciprocal admiration for and support of law enforcement."
RESPECT INDEED. Brutschy, a 10th-degree black belt and one of several members of two elite High Dan Boards (martial arts ranking bodies) – one in S.C. and one in Texas – is widely known for his daring pursuit and apprehension of a dangerous felon nearly 20 years ago.
According to news reports from 2004, Brutschy followed a fleeing robber in his vehicle, cornering him in the parking lot of Columbia's Whitney Hotel. The suspect – a 6'5" 240-pound man previously charged with three counts of armed robbery and assault and battery – rammed Brutschy's car in an attempt to flee.
"Brutschy was worried the suspect was getting desperate and got out of the car to stop him," reported WIS-TV on May 11, 2004. Brutschy added: "As I tried to get in the door, he started to reach under the seat, I thought he was going for a gun, so I went ahead and hit the window out, pulled him up, and I think he popped me one right there. We struggled, and he ended up on the ground. I held him until the police got there."
Heroics aside, Brutschy spends much of his time today as a fitness instructor, traveling with his wife Jeanne, running and otherwise working out, and participating in "critically important work" he says like SC7.
A joint venture between Global Eco Adventures (founded by Mullikin) and McCollum's S.C. National Heritage Corridor, the month-long 4th-annual SC7 Expedition across South Carolina from the mountains to the sea parallels much of the state's Palmetto Trail showcasing S.C.'s seven natural wonders and creating a greater awareness of S.C.'s sterling natural resources and how to protect them. Litter sweeps, river cleanups and other environmental cleanups, and trail repairs are taking place along the way.
"SC7's July 13 event in the Midlands was about building bridges within the broader S.C. community," said Brutschy. "It's about communicating and advancing relationships, which we are experiencing as an indirect, actually a direct, result of SC7. It's what the expedition has accomplished since kicking off in the Upstate on July 1."
The SC7 Expedition is currently on the coast of South Carolina and will conclude in the Beaufort area by the end of the month.
For more information about SC7, visit http://southcarolina7.com/.
– Chris Carter is a former semi-pro football player and U.S. Air Force veteran whose articles have appeared in Ops Lens, Human Events, Canada Free Press, Deutsche Welle, NavySEALs.com and other publications.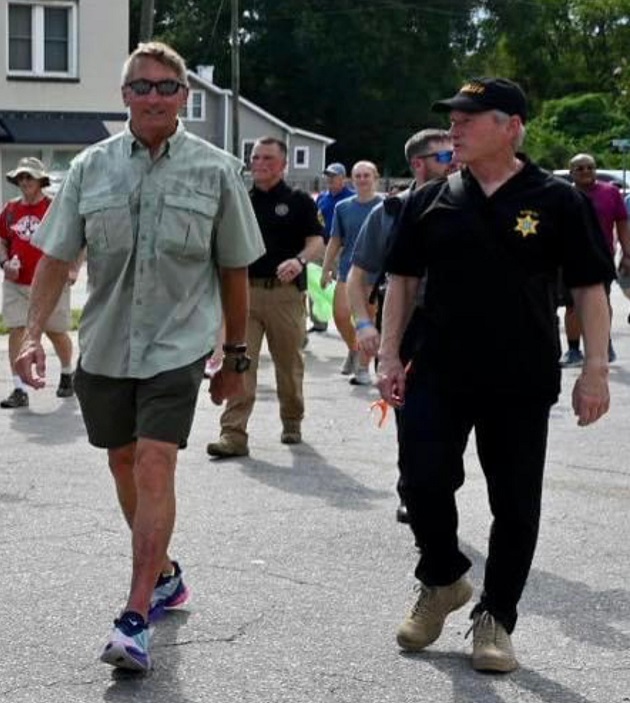 Featured photo (L-R) are Col. (Ret.) Steve Vitali, U.S. Marine Corps; Dr. Tom Mullikin; Bruce Brutschy; and former Staff Sergeant Lowell Koppert, U.S. Army Special Forces.