The Irmo Town Park was alive with arts and fellowship, all to celebrate six flowering trees, on March 25, which was proclaimed Cherry Blossom Day by Barry Walker, Mayor of the Town Of Irmo.
The 6th annual Irmo Cherry Blossom Festival honored these beautiful blossoms that embody the fragility and preciousness of life.
Events began in the morning at the Irmo Town Administration Building parking lot with a Japanese import car drive-in hosted by Japan Direct Motors of Irmo. Ryan Dempster and his 1989 Nissan Bluebird took the People's Choice award. The specially designed trophy depicting a popular Japanese vehicle topped by a blooming cherry tree branch was conceived, created, and provided by Soda City 3D Art and Cosplay.
Later, there was a cosplay costume contest, featuring participants, dressed as characters from Japanese cartoons. Soda City 3d Art and Cosplay hosted this contest and designed and fabricated the custom trophies. MomoCon in Atlanta provided four-day convention passes for the winners: Thomas Clark, First Place; Tori Stiefel, Second Place; Aidan Chavis, Third Place; Alana Hadassah Boozer, Honorable Mention.
Christian Brothers Automotive in Irmo also furnished prizes for the winners of both contests.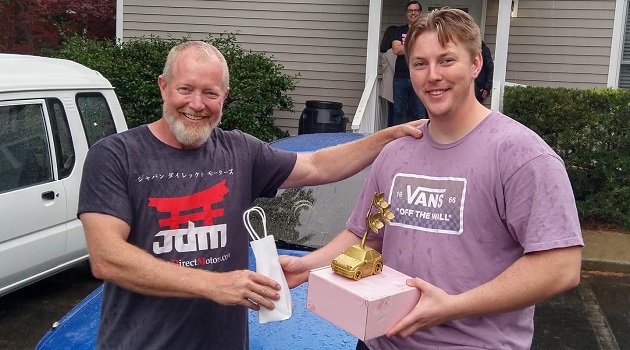 Festival attendee Alexis Mehaffey enjoyed the experience with her children, saying, "Despite the rain, my girls absolutely loved running around to all the vendors and looking for the little hidden ducks: it was like a little quest to them. All the vendors were so wonderful, and it was amazing to see how many talented people we have in our little town of Irmo. We are all looking forward to next year's celebration!"
Vendors included a traditional Japanese-style woodblock artist, as well as other artists, supporting the theme of Japanese culture.
"This was my first year selling as a vendor and my second year attending the Irmo Cherry Blossom Festival. Despite the rain, it was a fantastic event, and it was great seeing and meeting people from the community," reflects Sabrina Williams, origami artist.
Informational booths also educated attendees on topics such as the art of Japanese flower arranging, and the Peace Pole Initiative, an art project, focusing on the message of peace, which sprung from events occurring in Japan during World War II. Festival attendance was estimated to be around 200, with many repeat visitors from years past.
All of this and more took place under a canopy of pale pink, Japanese cherry blossoms. Organizer Kimberly Oakley Case expressed satisfaction at the end of the day, "I'm so pleased that people were able to come together in the heart of Irmo and celebrate art, peace, and friendship. Next year, I anticipate the festival will be even better, with the support from the Town of Irmo."