Several School District Five classrooms will soon benefit from grants provided by the Mid-Carolina Electric Cooperative (MCEC). The Cooperative's annual Bright Ideas program grants provide funding to teachers who have demonstrated innovative ideas for classroom projects. School District Five received nearly $5,000 in grants.
School District Five grant recipients include:
Margaret Nickerson, Lauren Derrick and Todd Woodward Chapin Elementary – Take a Closer Look at Our World.
Robert Schiferl, Chapin High – Laser Cutting Fins for Model Rockets.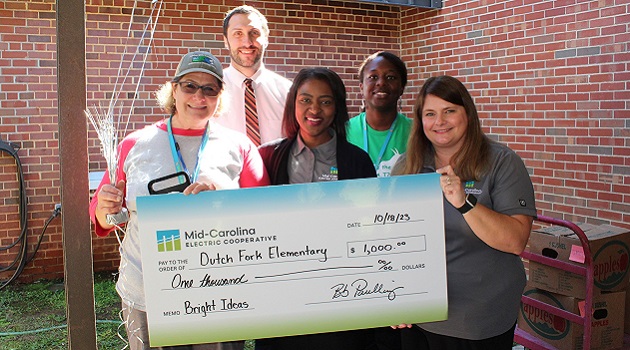 Amy Umberger, Dutch Fork Elementary – Crumbs to Compost.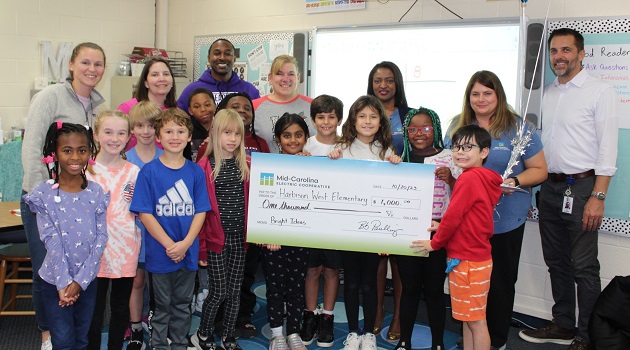 Patty Manning, Harbison West Elementary – Math by the Book
Kevin Kunkle, Piney Woods Elementary – Playing Fair with 9 Square in the Air.
The grants will support a variety of projects that support students.
Teachers receiving this year's grants were surprised by the "Bright Ideas Grant Patrol," who traveled to their schools to bring their awards.
Chapin Elementary School will use their grant money to buy 20 pluggable microscopes.
"The days of squinting through tiny lab lenses are now behind us. Instead, we can carry our portable, expansive screens outdoors to dive into real scientific exploration," Digital Integration Specialist Margaret Nickerson said. "These digital microscopes will amplify hands-on learning, allowing students to explore real science using Chromebooks. We're ecstatic about this opportunity for student-driven education."
Dutch Fork Elementary School Academy of Environmental Sciences' Resident Scientist Amy Umberger says the $1,000 grant the school received will be used to fund a "Crumbs to Compost" program at the school to help divert all cafeteria food waste from the landfill.
"We are committed to diverting all cafeteria food waste from the landfill which is roughly 35 tons a year," Umberger said. "We then get it hauled off by SMART recycling and turned into rich compost processed by ReSoil commercial composting facility that we can use in our garden spaces. We are so grateful to the Bright Ideas program for allowing teachers like me to submit grants to offset the cost of the hauling and processing services."
This year's awards mark the 19th annual Bright Ideas program recognition. Mid-Carolina Electric Cooperative gave more than $19,000 in grants to teachers in several districts this year.
"Supporting educators, students, and classrooms is an integral part of our cooperative's mission," said Bob Paulling, President and CEO of Mid-Carolina Electric Cooperative. "By investing in education, we are investing in the future of our community."