By Thomas Grant Jr.
It's another year, another season to defend a championship for Dutch Fork football.
Having reclaimed the South Carolina High School League Class 5A title last December, the Silver Foxes are back at work to defend it.
Fans and supporters got to interact with the 2023 team during the "Meet the Foxes" Family Fun Night event at the stadium. For the players, the support serves as fuel for motivation as it seeks the program's eighth state title.
"It's a blessing we love our fans," defensive lineman Dakota Jordan said. "It's a blessing that everybody showed up."
"It's amazing to come here and play and you've got packed stands for stuff like this. Packed for events like this. It's crazy."
Graduation saw the departure of several key players from last year's 14-1 team. Class 5A All-State running back Jarvis Green (now at Clemson), quarterback Aliam Appler, linebacker Chandler Perry, safeties Landon Danley and J'von Mack and defensive linemen Jaylon Hinton and John Buetow were among the talented seniors who graduated in the spring.
Looking to replace those starters are defensive back Elgin Sessions and outside linebacker Tyler Jones both of whom have excelled at off-season camps. Josh Smith returns on the defensive line and Terrence Wells is among the athletic standouts who can play at edge and linebacker.
"The seniors last year were a big part of the team," Smith said. "Landon Danley, they taught me how to be the leader and so, I'm going to carry it throughout this year and try to help the team."
While the single-minded focus is there, center Connor McGee believes the key is to "keep our foot on the pedal and keep driving" as well as exhibiting more teamwork.
"Honestly we just need to work more together," McGee said. "Right now, we're playing an individual game. We just need to work together and push each other; we're going to be all right."
Dutch Fork is ranked first in the High School Sports Report and fourth by the High School Football America preseason rankings. It opens the season on Aug. 19 at Colquitt County, which is ranked seventh in the High School Football American poll, in Georgia, and then play five straight home games.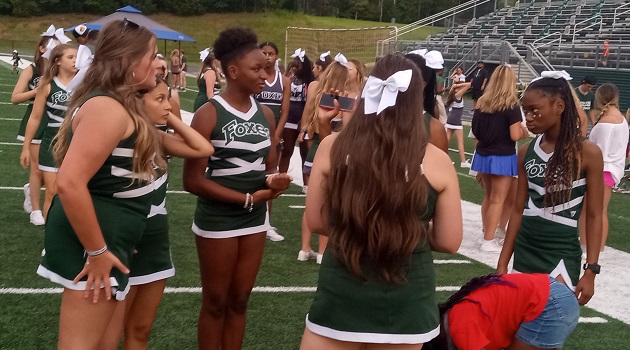 Meanwhile, Irmo High School will hold a similar Family Fun Night event Friday at W.C. Hawkins Stadium starting at 4 p.m. Fans can meet the players and take part in several games.
2023 DUTCH FORK FOOTBALL SCHEDULE
Aug. 18 – at Colquitt County 7 p.m.
Aug. 25 – SPARTANBURG 7:30 p.m.
Sept. 1 – HOUGH 7 p.m.
Sept. 8 – STRATFORD 7:30 p.m.
Sept. 15 – NORTH AUGUSTA 7:30 p.m.
Sept. 22 – WEDDINGTON (N.C.) 7:30 p.m.
Oct. 6 – at White Knoll 7:30 p.m.
Oct. 13 – at Chapin 7:30 p.m.
Oct. 20 – RIVER BLUFF 7:30 p.m.
Oct. 27 – LEXINGTON 7:30 p.m.