An opportunity to play baseball or softball before a World Series crowd.
It's what close to 80 youngsters signed up for this past Saturday at Friarsgate Park in Irmo. For the first
time, the Irmo Little League held a "Hit, Pitch and Run" competition.
Sponsored by Major League Baseball, it's a nationwide contest in which baseball and softball players
take part in three drills:
Hit (A participant gets five swings off a tee which are measured for distance.)
Pitch (A participant earns points by throwing into an MLB strike zone.)
Run (Participants are timed running 90 feet)
Making the event possible was Irmo Little League board member Jay Brown. As a young baseball player,
he participated in another MLB-sponsored contest called "Diamond Skills" and wanted to bring a similar
opportunity to Irmo.
"I think part of sports and baseball is competing and having a little bit of pressure and realizing you can
succeed, and you can have success under pressure," Brown said. "But also, it's community. Everybody
loves to be at the ballpark. And yes, it's hitting off the tee. It's part of the game. There are the
fundamentals of hitting, throwing, and running are just part of the game. So it's an opportunity to showcase some of the skills they've been using all spring and during the summer. Just a friendly competition."
The local winners of each event advance to a regional pool tournament with the top five going to
another event at a MLB ballpark. The finalist from that event will be invited for a competition during
Game Two of this year's World Series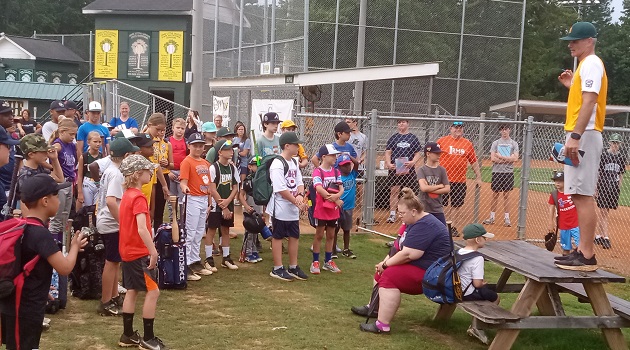 (Photo by Thomas Grant Jr.)
Jay Brown of Irmo Little League addresses the participants in the Hit, Pitch and Run event at Friarsgate Park