The Town of Irmo and the Irmo Police Department honored the passing of retired Irmo Police Chief David Graham this week. Graham was hired by the Town of Irmo in 1987 and served as Police Chief from 1995-1998. He was known for his leadership abilities, great sense of humor and driving around with his car windows down, his left arm propped up on the driver's side door, no matter the temperature.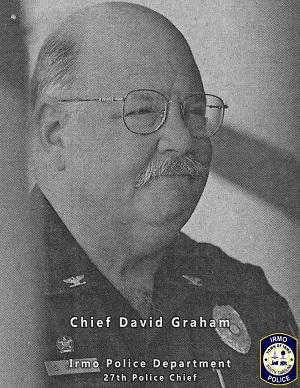 Prior to his employment with IPD, he served in the United States Navy as a river boat operator in Vietnam worked for the Miami-Dade Police Department and was instrumental in the investigation, arrest and conviction of Larry Gene Bell during his employment at the Lexington County Sheriff's Department.
Upon learning of Chief Graham's passing, the current and former Irmo Police Chiefs and employees offered their sentiments.
"Listening to Chief Graham's stories, he reminded me a lot of my grandfather telling his stories about being a police officer in the 20th century" according to current Irmo Police Chief, Bobby Dale. "He was a "cop's cop", which can be difficult to achieve as a leader in 21st century policing."
"He was a genuine gentleman with a big heart. He stayed in touch with me through the years and was always willing to lend a wise ear." – Retired Irmo Police Chief and Current Town of Irmo Administrator, Courtney Dennis.
"Chief Graham had an outsized impact on law enforcement in Irmo and the surrounding area. He was a leader, mentor and most importantly a friend to me. He will be sorely missed." – Retired Irmo Police Chief Brian Buck.
"Chief Graham hired me. He was a great Chief to work for, he genuinely loved to laugh and was a great person overall. He will be greatly missed." – Retired Irmo Police Chief Joe Nates.
"Chief Graham was instrumental in my life in many ways; he influenced my decision to not only become a police officer but an officer with integrity. He led by example and treated other officers and members of the community with respect and humility. He was a mentor that could teach without words while other times his demeanor would help you self-correct, quickly! He was a man I admired, respected and I will miss him as a mentor, but most of all as a friend. I am truly humbled and blessed to have had the opportunity to learn from him throughout my career." – Former Irmo Police Officer, Retired Richland County Sheriff's Deputy and partner to K9 Arko, Kevin Hoover.
The Irmo Police Department wrote on their Facebook page "Go rest easy Chief, we'll take the watch from here, Sir."