The New Irmo News is part of Linc, Inc., a home-grown locally-owned chain of community weekly newspapers. The New Irmo News is dedicated to help make the Irmo, Dutch Fork and Saint Andrew Communities a better place to live, work and grow.
Founded in 1997 this newspaper constantly strives to improve the positive impact it has on all parts of our communities, including families, neighborhoods, organizations, schools and businesses.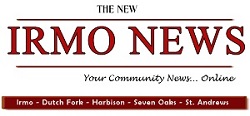 Kirk Luther _ Publisher
John Griggs _ Web Services
Designed and Edited by Keith Boudreaux
Contributors
Al Dozier, George Bryan, CT McDonald
The New Irmo News is published each week on Thursday, except for holidays or special editions. Deadline for news and announcements is Wednesday at 10 am prior to publication. If advertising proof is required, copy deadline is Friday at 5 pm.
Office hours are 8:30 am til 5 pm, Monday through Friday. Mailing address is PO Box 175 Irmo, SC 29063. Phone number is 803.772.7506. Fax number is 803.772.7795. Email address is [email protected] or [email protected] for news and Ads@[email protected] for advertising. Our office is located at 7707 B St. Andrews Road, Irmo, SC 29063.
The New Irmo News reaches about 22,000 readers throughout the Greater Irmo area including zip codes 29063, 29210 and 29212.
Classified advertising rate is $1.98 per line (up to 30 characters or spaces: bold italics, all-capitals, etc are double lines.) For classified advertising call 803.772.5584 or fax to 80..772.7795.
Local Retail/Display advertising rate is $9.80 per column-inch. Most pre-printed materials can be inserted at the rate of $55 per thousand. For all advertising information (other than classified advertising), call Kirk Luther at 803.772.7506.
Some articles including Business Features or Spotlights are advertorials with content provided or approved by the advertiser. For rates or information on Business Features advertising call Kirk Luther at 803.772.7506.