Thanksgiving and family go together What first attracted me to golf was the picture of families participating together.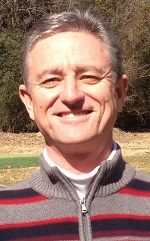 The Krapfel's, Healys, Lusk's, Chappells, Whittington's, Chapels, Newnham's, and Rutherford's were just a few of the families that invited me to play along with them when I got started in golf.
I got a bit of a late start and really didn't start playing until just after high school. The idea of the entire family from very young children, mom, Dad, and grands playing together was a unique recreational picture. What is so intriguing, is how players of varying skill levels, from brand new to pro, can truly enjoy playing together and even compete with each other. The wide variety of golf's formats, coupled with the handicap index system that offers a level playing field between different skill levels, could set up a memorable thanksgiving holiday.
So the lesson and suggestion for today is to consider taking part of this weekend to the golf course. The outdoors alleviates some of the Covid inspired stress and the forecast seems favorable.
How about this from 5 year old Connor Mathews when asked what he thought about golf, "it's a good idea for our family to play together", and when asked what his favorite thing in golf, he said, "when we get to play more."
The Mathews family are part of the fall Lexington Recreation and Aging Commision Family Junior Program.
Four year old Soloman George Henry, whose family is in the Richland County Recreation Commision Fall Family Junior Program, had this to say. When asked what his favorite part of golf was, "Swinging the golf club." His mom, Loren Benjamen answered this way, "I enjoy learning together, as a family."
Linrick GC hosted a fall season family finale for both RCRC & LRAC this past Saturday afternoon.
The Winter Youth Golf Tour is an upcoming family golf option. Juniors of all skill levels age 7-18 are eligible and parents are encouraged to participate as caddies, course guides or fans. The most popular feature is the16 different courses that support this program around the midlands. Each Sunday afternoon during January and February, families and juniors play a different course. December is holiday shortened, but Charwood and Linrick host the Tour's preseason.
Registration is still open and to find out more, call 803-603-1718 or visit the following websites: http://richlandcountyrecreation.com/fall-golf-programs-at-linrick-golf-course, Icrc.net, https://sports.bluesombrero.com/lcrac
In closing, John Stoudemayer of Chapin had a personal record 33 on 9 holes at Mid-Carolina Club. The 69 year old Lutheran Pastor birdied #4,#5,& #6 for three in a row on the front nine.
Happy Thanksgiving
George Bryan Golf Academy