This idea is running parallel to Jordan Speith putting while he is looking at the hole.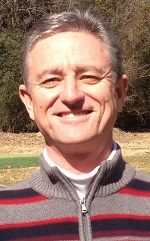 In short summary, putting with your eyes closed, your mind can be magical if you learn to utilize it better. Putting can be unimaginably easy if you let it. So practice this and let the most important parts of your game flourish.
Speaking of easy, Country Club of Lexington Head Pro Stephen Hartwig along with Junior Girl Pro Lady team members Karlee Vardas, Ellie And Molly Hardwick made Timberlake Country Club play easy this week by shooting 56.
"We shot 15 under, Karlee made 8 birdies, Molly made 2 birdies and an eagle, and Elle made us 3 net birdies" said Hartwig.
Next week there will be a scoreboard for the Timberlake Pro Lady so tune in.
The Lexington Wildcats are the number one ranked girls high school golf team while Gilbert is number five in the Overall SCHS rankings.
Here are a few golf nuggets to check that I recently discovered. Rob Thames, a Strength Coach who also is a professional fisherman just launched his Lowdown You-Tube channel. The reason I point you there is one of his first videos was golf fitness. https://youtu.be/1X0yk7vzRMM. It is really good for the golfer who is dedicated.
The Players Club at The Main Event in Downtown Columbia offers Golf Simulators unlike anything I have seen, so it's a must visit. The Swing Suites are truly special but the featured attraction is the virtual putting green. Visit https://maincoursesc.com/players-club.
Next there is still time to Register for the LRAC Family Junior golf program so visit the Lexington County Recreation and Aging website, find Athletics, then "click here" in the last paragraph of the description to find Family Junior Golf program.