Adair Piano: Business of the Month
Adair Piano was honored with the Irmo Business of the Month in October of 2020 for their lasting commitment to the town and the longevity of their business.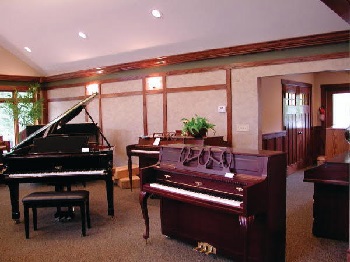 John and Ellen Adair began their careers with the arts more than 45 years ago. As co-owners of Adair Piano which was founded in 1980, they have served the Midlands all these years with exceptional piano service, rentals, moving and piano retail sales.
Ellen played piano and harp and taught for many years while John handled the technical part of the business.
"Listening and understanding are the hallmarks of our business philosophy," said John. "Following this ideal we have become a leader in the piano business throughout our community and the state."
Adair Piano is an authorized dealer of some of the most famous and prestigious brands in piano technology. From Bosendorfer to Baldwin, John's pianos also include pre-owned Steinways and pre-owned Yamaha pianos.
From full concert grands to smaller console pianos, the pricing is designed for the buyer and Adair Piano has rent to own programs. They provide short and long term rental programs, also.
Adair Piano has provided pianos to churches, institutions, schools and individuals of all persuasions. They now have three employees and service up to a 100 mile radius. Located at 1525 Lake Murray Blvd., Adair Piano has more than 500 church accounts and services thousands of residential pianos throughout the Midlands.
Thanks to John's extensive knowledge in piano construction Adair Piano was chosen by the Yamaha Corporation of America to be the dealership of the famous Bosendorfer pianos.
Always looking toward the future, John has the Piano Technicians Guild hold monthly meetings at Adair Piano to train and share skills with other technicians but due to the pandemic they have refrained from meeting. Adair Piano is committed to the training of new technicians and the future of the piano industry.