Artist Statement: Expressing creativity comes from introspection and the ability to tap into it. Art can be seen and experienced in a multitude of areas like looking at the sky, walking through the woods, or sitting by a lake, river or ocean. Art comes from the outside in or from the inside out.  I find joy in the outcome of creativity as I am able to share part of my inner world with others. I am most attracted to vivid colors and unique shapes and textures.  I enjoy allowing myself complete freedom of expression using my chosen mediums. It is very common for my subject matter to change with each piece of art I create.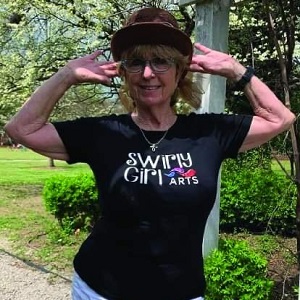 Artist Bio: Trish Gillam is a lifelong resident of Columbia, South Carolina. After graduating in 1966 from University High School (a school located on the campus of the University of South Carolina), Trish studied business administration and eventually settled into a career in real estate and massage therapy.
Trish is known for her colorful and unique displays of art in Columbia, S.C. and surrounding areas. Her art has been displayed and exhibited in venues such as the Autumn Faire Art Festival and Mad Hatters Art Festival at the historic Robert Mills House, Cottontown Art Crawl, and the Melrose Community "Art in the Yard" festival. Her art has also been shown in galleries including the Rob Shaw Gallery and State and Frink Street Venue, both in the Cayce River Arts District, and in local businesses including Musician's Supply, NoMa Warehouse, The Artist's Coop, Pitter-Patter Pottery, The Aloft Hotel, and the Land Banks Loft historic building.
Trish considers herself a natural self-taught artist who has been inspired by historical abstract artists Jackson Pollock, Wassily Kandinsky and Helen Frankenthaler. She is also inspired by contemporary artists such as Tracy Verdigo and Shelee Art in Australia, and regional South Carolina artists including Alicia Leeke and Lee A. Monts.
Having a passion for art her entire life, she decided to take a plunge into the world of art once she retired in 2016. She and her daughter combined their artistic talents to create Swirly Girl Arts and began teaching acrylic pouring abstract art techniques to individuals, business venues and schools. Swirly Girl Arts was featured in F-Suite Magazine as a unique mother/daughter team known as "Trish & Kimber." They have spent many joyous hours painting together, sharing their unique talents, and inspiring others to pursue art in a fun and free-style way. When she is not creating art, Trish enjoys time with family and friends and is an avid gardener.