By CT McDonald
While the varsity lacrosse playoffs approach the finals games this week, the boys tennis postseason games are just getting underway.
Girls and boys varsity lacrosse teams will play for their state championships Saturday at Irmo High School, with some local teams just missing a shot at the finals by a few points in the semifinals.
Chapin's varsity girls advanced to the 5A semifinal round against Wando on Monday and came up 2 points short after a strong showing through the brackets.
The Eagles and Warriors have repeated previous matchups in three consecutive seasons.
Chapin advanced to the semifinal round in the 2021, 2022 and 2023 playoffs and ended the season there against Wando. Semifinal matchups have been very close in two seasons. The Warriors won by a single point (9-8) in 2021, and by two points 12-10 early this week.
Dutch Fork's varsity girls also advanced in the playoffs. The Silver Foxes won the first round and then took a 16-5 loss against Chapin last Thursday in round two.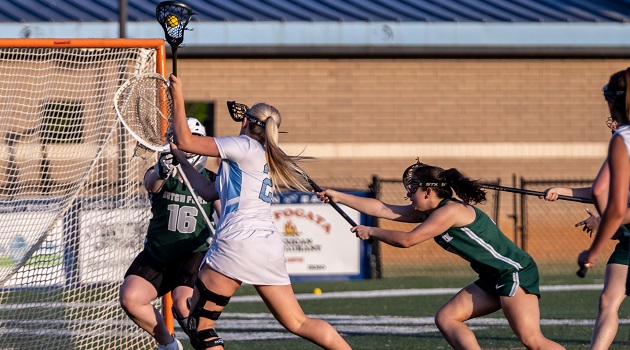 Dutch Fork also advanced to the second round last year and then lost to Wando in the second round.
In the 5A boys varsity playoffs, competition looks much the same.
Dutch Fork and Chapin each advanced to the second round last week and that is when the Eagles defeated the Silver Foxes 12-9 last Saturday to advance to this week's semifinal round on Tuesday against Wando.
The winner of that one will have advanced to Saturday's state finals against either J.L. Mann or Nation Ford. Wando held a 7-3 lead after the second quarter as this publication went to press.
At Irmo High School on Saturday, varsity lacrosse state final games for 4A teams begin at 11 am with the girls matchup, and the boys game follows 25 minutes after the girls postgame ceremony.
The girls 5A game starts at 5:30 pm, and the boys game follows 25 minutes after the girls postgame ceremony.
Also this week, the boys varsity tennis playoffs get underway with more local teams in competition.
Irmo was set to start against North Myrtle Beach on Tuesday in the 4A games after completing the regular season at No. 2 in Region 5-4A.
Dutch Fork also finished second but in Region 4-5A, while Chapin was just behind at No. 3 in the conference.
Both the Silver Foxes and Eagles started their first round competition on Tuesday.