The Women In Military Service For America Memorial Foundation has proclaimed West Columbia, SC resident Evelyn G. Jones Williams as a "Living Legend" in honor of her military service and 100th birthday on December 8, 2021. A ceremony was held on May 26th at NHC (National Healthcare), 2993 Sunset Blvd, West Columbia 29169, with South Carolina Women's Memorial Ambassadors Shelly Langston and Liz Litvin making the presentation.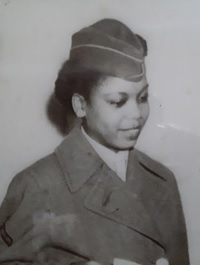 The mission of the Military Women's Memorial is to honor women's contributions to the defense of our nation and to inspire the next generation of leaders through the examples of those who have paved the way.
The Memorial is America's only national memorial dedicated to preserving the history and contribution of women's military service to the country. Private First Class Evelyn Williams is one such pioneer having served as a member of the U. S. Women's Army Corps (WAC) during World War ll.
Private First Class Williams, from Saluda, SC, entered the Army on September 13, 1944, and reported to Fort Des Moines, Iowa for Basic Training. She was assigned to the 224th Army Air Force Base Unit serving as a Medical Clerk. Some of her duty stations included Washington and Alabama. Evelyn was honorably discharged at Fort Bragg, North Carolina on July 6, 1946. PFC Williams received the Women's Army Corps Service Medal, American Campaign Medal, Good Conduct Medal, and the World War ll Victory Medal for her service.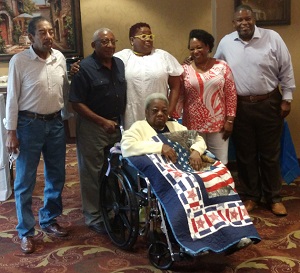 Ambassador Liz Litvin from Pawley's Island came to honor Evelyn and to support her fellow Midlands ambassador, Shelly Langston. Heather Durant-McEady, SCDVA Women & Minority Coordinator and Ed Lundeen, Director of Lexington County Veteran's Affairs Office, and Quilt of Valor Representatives Judy Keating, Mary Lou Putlock, and Clara Fisher, were also present to honor Evelyn.
The Military Women's Memorial goal is to record the story of every woman who is serving or who has served. If you are a woman currently serving or a woman veteran, or if you know a military woman or woman veteran, you can register them for free at womensmemorial.org. If you know a woman whose service stands out as an example for the generations and should be recognized as a Living Legend, you can contact our South Carolina Ambassadors at [email protected] or
[email protected] or the Military Women's Memorial at [email protected].
Featured photo: SC Ambassadors Liz Litvin, retired Army veteran, and Shelly Langston,
Navy Veteran, present the Military Women's Memorial Living Legend Proclamation to PFC Evelyn Williams.