Environmentalists in Richland County, including a County employee, earned places in the spotlight at the annual conference for the Environmental Education Association of South Carolina (EEASC), taking home more than half of the organization's top honors.
Chanda Cooper, the County's conservation education analyst, was named Environmental Educator of the Year at the EEASC's conference June 10.
"It is both gratifying and humbling to feel the support of my colleagues in this way," Cooper said of the honor. "I work with some of the best people in the world – students, teachers, farmers and conservationists – and they are a constant source of inspiration and energy for this work."
In her role with Richland County, Cooper provides conservation education programs for audiences from pre-K through 12th grade, as well as educators, agricultural producers and the general public, with support of the Richland Soil and Water Conservation District (RSWCD). Some of the RSWCD's programs include:
• classroom conservation presentations
• a youth conservation poster contest
• Conservation Education Mini-Grants for local schools
• curriculum workshops for educators
• technical support for schools through the Green Steps Schools program
• sustainable agriculture workshops for agricultural producers
• a soil health equipment rental program
• a community Seed Sanctuary
Cooper also serves as an adviser to several local boards and committees involved in conservation education.
"My passion for environmental education stems from a love for the natural world and a childhood spent exploring the fields, streams and woodlands on my family's farm," Cooper said. "As an environmental educator, I now spend my days helping others appreciate and care for our state's natural resources."
Cooper was nominated for the award by Jane Hiller, who worked with her for 15 years as an environmental educator and is now a board member and central section director for the EEASC.
"Chanda is absolutely the best environmental educator I've ever met, so it was an easy choice," Hiller said of the nomination. "She's great with kids, she's great with teachers, and she's great with other environmental educators. She has a passion for this, and she puts her whole heart and soul into it."
Other Richland County Winners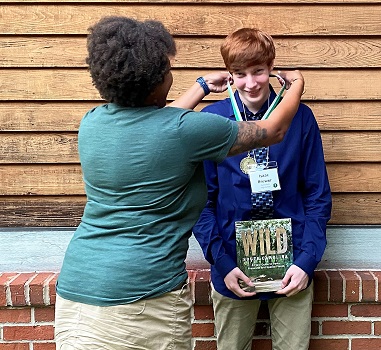 The EEASC awarded its 2022 Outstanding Environmental Youth Award to Isaac Brewer, a senior at Dutch Fork High School. Brewer is a four-year student in the Center for Advanced Technical Studies' Clean Energy Program and an intern for the S.C. Energy Office.
Brewer helped Lexington-Richland School District Five win a state-of-the-art electric bus based on an essay he wrote for the "Kids Ride Clean" writing contest sponsored by the Ava Lane Meyer Foundation.
Columbia-based Sal's Ol' Timey Feed & Seed was named the EEASC's Green Business of the Year. Owner Sal Sharpe is a seventh-generation homesteader with a wealth of gardening knowledge. Her store offers gardening classes, monthly garden subscription boxes, heirloom and non-GMO seeds, gardening consultations and more.
The nonprofit EEASC focuses on environmental and natural resource conservation education and seeks to connect, support and equip educators to promote environmental stewardship.