Students from District Five schools presented their grant projects at the Center for Advanced Technical Studies on Thursday, March 3. More than 80 projects were on display from students that received grants from the D5 Foundation through donations from local sponsors. The grants help fund numerous advanced research projects that the students conceptualize with help from their teachers.

The District 5 Foundation gave grants to 83 students from all of D5 high schools and 3 of those students were at Irmo Middle School. They went to students involved in science research and development: Biomedical Innovations, Engineering Design, Clean Energy, Advanced Placement Research and Escalores Science. Each year some of the student grant recipients get patents for their inventions and every year many of the students receive awards from a large variety of science fairs and state or national competitions.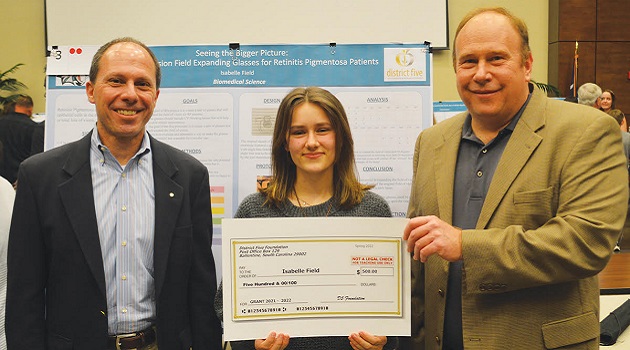 The D5 Foundation awarded more than $20,000 to these student grant recipients this year. The Foundation also awarded almost $20,000 to 46 teachers who submitted grant applications for innovative instructional projects for kindergarten through 12th grade in all of our school clusters, including several for special needs students and also grants for students at all other academic achievement levels. These grants include instruction in literacy and world languages, math, science, music, physical education, and art. One grant provides extra support for first-year teachers, one provides after-school tutoring for students with specific needs, and one provides resources for the District 5 Teacher Forum.

The District 5 Foundation is able to award these grants because of very generous community businesses, civic organizations and individuals. Sponsors this year include the Lake Murray-Irmo Rotary Club, Contract Construction, Timmons Construction, Nephron, Midlands Family Chiropractic, David's Fine Jewelry, Blue Marlin, Prisma Health, White and Story law firm, and Dr. Carey and Mrs. Paula Hite.
Midlands Family Chiropractic sponsored Margaret Corley with a grant for her work on a new synthetic cartilage for Osteoarthritis. Pictured left to right are Mary Kennerly of the D5 Foundation, Dr. Amanda Boyeson Oldacre of Midlands Family Chiropractic, Maggie Corley and Dr. Matt Boyeson of Midland Family Chiropractic.