A team of Clean Energy Technology students from the Center for Advanced Technical Studies (The Center) had the pleasure of participating in a walk-through energy audit of Chapin Middle School. This audit was to teach the students how to identify and resolve issues regarding energy loss and conservation as well as potential money-saving opportunities.
The audit was led by Matt Porth of Mid-Carolina Electric Cooperative, Inc. who taught the students how to analyze the school's utility bills and guided the students throughout the building for the audit. The students found a series of energy-saving opportunities and presented those to Chapin Middle School Principal Stephanie Huckabee in an audit report. That report is for informational purposes only, but the students hope Ms. Huckabee will be able to take the recommendations into consideration.
"I am so proud that Chapin Middle School could provide a place for this authentic learning experience for students from The Center in partnership with Mid-Carolina Electric," Chapin Middle School Principal Stephanie Huckabee said. "These real-world experiences are education at its finest and it is a gift to have this kind of report provided for our school. We are reviewing their information to assess where we can make modifications now as a school and which projects might take more investment from the district level."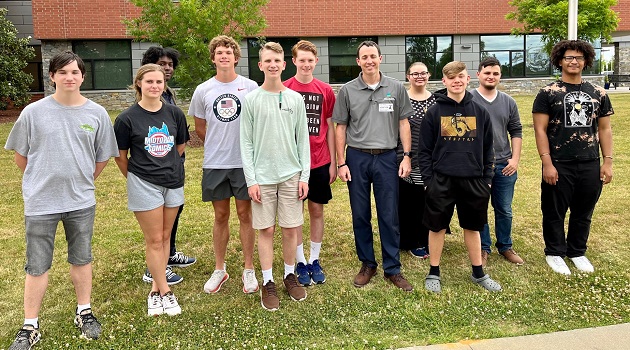 Mid-Carolina Electric Cooperative (MCEC) is a longtime business partner with the Clean Energy Technology program at The Center. MCEC provided the opportunity for students to shadow the walk-through building audit and helped perform the inspection in person at Chapin Middle School.
"This type of experience helps students understand the content taught during class by applying themselves in an authentic career-focused environment," Clean Energy Technology Teacher Patrick Smallwood said. "I believe that my students now have a better understanding of energy auditing careers and how to save energy as well as money when operating a large facility, such as a school building."
The Clean Energy Technology program at The Center enables students to apply fundamental science and operating principles of clean energy systems to authentic problems. Such problems involve motors and generators, photovoltaic systems, water and energy conservation, wind turbines, biofuel generation, bioreactors, water power, energy harvesting, fuel cells and nuclear power. Students use an engineering design process to develop solutions to these authentic problems.