Leaphart Elementary School STEAM Magnet has installed a new hydroponics tower from Lettuce Grow on campus.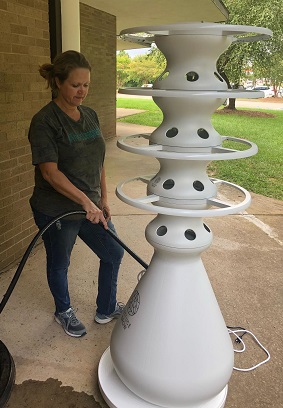 Hydroponic gardening is water-based, growing plants and herbs without soil. The tower will serve as an instructional tool to engage students while learning about food production, nutrition education, and STEM explorations.
"During the previous school year, we applied for a gardening grant through the Whole Foods Foundation and while we were not a recipient of that particular grant, the Whole Foods Foundation recommended that we apply for a donation of a hydroponics tower from Lettuce Grow and we received it," Leaphart Elementary STEAM Coach Kimberly Parker said. "We are so excited to have this as part of our gardening program! I cannot wait to see all that our students learn from this!"
There are 24 spots on the tower and the school is currently growing parsley, peppers, basil, chives, oregano, zucchini, thyme, eggplant, cherry tomatoes, green beans, and kale. Fourth graders will apply their learning observations with their Plant Life Cycle curriculum and learn about plants that can grow indoors. Students will also utilize the hydroponic tower to learn about the maintenance of the device. and how the towers serve as one solution to food deserts.
The school plans to use the food they grow in their cooking club and to cater a possible salad bar for teachers.
Leaphart Elementary School STEAM Magnet offers students a rigorous interdisciplinary curriculum of science, technology, engineering, arts and mathematics that is grounded in authentic, project-based learning and design thinking to inspire, challenge, and empower all students. This inquiry-based approach relies heavily on student-led investigations where students are encouraged to take risks, experience failure, and try again.