Six former Irmo Police Chiefs joined the honorable Brian Buck for breakfast on Thursday, February 18 at the Lizard's Thicket in Irmo to present him with letters of recommendation to the 2021 Irmo High School Hall of Fame.
Judge Buck was Irmo's Chief of Police from 2005 until 2015 when he retired from law enforcement and went to the bench as a magistrate judge for Lexington County. Buck began law enforcement in Irmo in 1987 as part of the Explorer program.
'It's a great honor to be nominated to the Irmo High School Hall of Fame and I am truly flattered," said Buck. "And for these guys to come together and recommend me is an even bigger honor."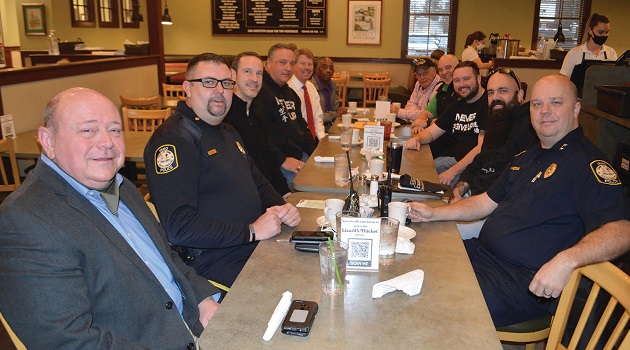 Present were Chief Frank Leaphart ,who was the first African American Police officer in Irmo, that led the force in the late 70s. Leaphart is now 83 years old. Don Murphy who was there in the early 90s, Dave Graham became chief in the later 90s. Brian Buck ran the force for 10 years from 2005 to 2015 and Joe Nates who was there from 2015-16. Don Perry was chief from 2016 until 2020 and the current Irmo Chief of Police is Courtney Dennis.
"One of the best things I did as a police chief in Irmo was to hire Brian Buck," reflected Don Murphy who was chief from 1991-92. "I recognized him as someone that would be a good chief one day."
The Irmo High School Hall of Fame began in 2017. A few of the past inductees include Leeza Gibbons, Coach Joseph Turbeville, Courtney Shealy Hart, Dr. Glenda George, Major General Van McCarty, Marti Suber and Stuart Mungo. Irmo High School Hall of Fame Inductee Brian Buck(l) with Joe Nates and Rep. Chip Huggins
Featured photo: Irmo High School Hall of Fame Inducteee Brian Buck(l) with Joe Nates and Rep. Chip Huggins