On October 13 the Optimist Club of St. Andrews-Irmo held a banquet celebrating the transfer of power.
At the banquet, outgoing President Larry Blosser ended a successful year by symbolically passing the gavel to incoming President Kerry Powers. Powers became the first woman to lead the club in its 52-year history.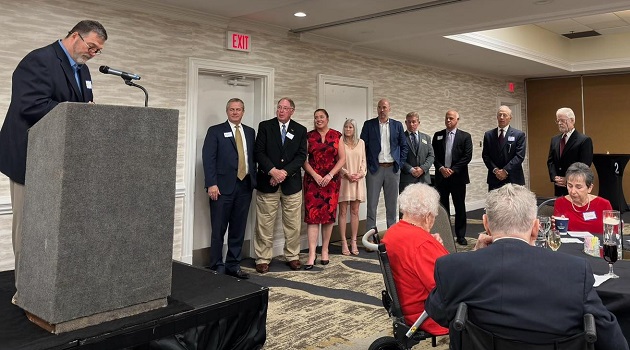 Another important part of the evening was the swearing-in of a new Board of Directors, some beginning the second of a two-year term and some newcomers joining the board. Past President Jay Downs, having served as Lieutenant Governor of the South Carolina Optimist District, administered the Oath of Office.
Rick Abercrombie was honored with the Optimist of the Year recognition. Among other informal duties, Abercrombie submits the "mostly weekly" Optimist updates to the New Irmo News.
The motto of all Optimist Clubs is "Friend of Youth." Every year, using funds from two fundraisers, St. Andrews Optimists donate the net proceeds to causes that uplift the lives of young people in the Midlands. Among other areas of focus, reading readiness programs receive strong support.
The Optimist Creed,—-recited at the end of every Club meeting as well as at this particular evening—- ends with the sentence ("Promise yourself") to be too large for worry; too noble for anger; too strong for fear; and too happy to permit the presence of trouble."
Featured photo: Outgoing President Larry Blosser receiving a token of appreciation from incoming President Kerry Powers.