Vivek Ramaswamy visits Irmo
Presidential hopeful Vivek Ramaswamy spoke with nearly 50 patrons at the Lizard's Thicket in Irmo located at 7569 St. Andrews Rd., on Saturday, April 29. Visiting Irmo is part of his 4-day bus tour of South Carolina which began on Thursday and included a stop at Tidewater Boats, speaking at the Lexington County Republican Party and Mom's for Liberty events.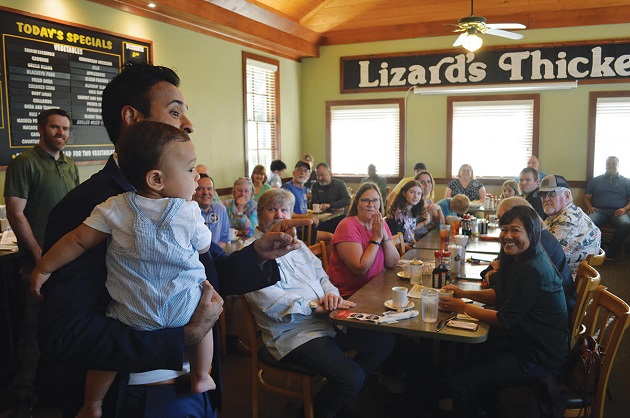 "I'm a huge fan of his business point of view," said Kathi Sill of Irmo. "His conservative approach goes after the root problems and is all about creating the right environment for business growth."
Ramaswamy was named 'CEO of the anti-woke movement' by the New Yorker. His New York Times bestselling books include 'Woke, Inc.'; 'Inside Corporate America's Social Justice Scam'; Nation of Victims: Identity Politics, the Death of Merit, and the Path Back to Excellence, and Capitalist Punishment: How Wall Street is Using Your Money to Create a Country You Didn't Vote For.'
"I'm trying to hear directly from all the candidates and this presented a great opportunity," said Margaret of Lexington.
Ramaswamy was raised in Ohio and once was a nationally-ranked tennis player. He graduated summa cum laude from Harvard and received his JD from Yale Law School. He started his own biotech company which produced FDA-approved drugs.
Ramaswamy wants to restore merit, revive free speech and save our American identity. 
Pictured: Presidential candidate Vivek Ramaswamy, son Arjun and Sara Krisnow from Lizard's Thicket