By Mike DuBose
In our last article, we encouraged you to look back over the last few years and assess your happiness using a scale (1=Miserable and 10=Extremely Happy). We wanted you to pause, dig deep into your soul, and evaluate your life's journey. That's important because you have to establish where you are so you can determine where you want to be. Yogi Berra once said, "If you don't know where you are going, you might end up somewhere else."
A book that challenged me to think more openly was "What Got You Here Won't Get You There" by Marshall Goldsmith. In this bestseller about leadership, he focused on "habits to overcome in planning your future." We often think that our life will get better, using the same, old playbook, and we are surprised when it doesn't. Change is often required to move from one stage of life to the next as we mature.
I prefer not to write negative articles but rather focus on facts that improve lives. But what causes unhappiness? See if any of the following resembles aspects of your life. The researchers noted that when we are young, we "think" we're happy but our brains don't mature until after the age of 30. According to a 2022 quality-of-life study, most individuals aged 18-49 aren't happy with their lives. Looking back, during our teenage years, we mimic our peer group's behaviors and values. Our parents and others can influence our future in positive or negative ways. After graduation from high school, college, or graduate school, we chase careers, money, power, and other worldly things—not necessarily what "we're passionate about and love to do." We build layers of others' expectations that can "drown our desired future." We have children, which, like marriage, takes work if you do a decent job. We often place our children, jobs, and other activities over our marriages, which begin to fizzle, and we slowly drift from being lovers to roommates. Many live financially beyond their means to obtain things or impress others, thus becoming indebted to financial obligations—paycheck-to-paycheck. When both spouses are employed, their time is totally spent on work, childrearing, household chores, and "frantically running from-one-activity-to-another." The poisonous media adds more fuel to our unhappiness. Many go to bed at night exhausted because there's little energy left.
Life becomes burdensome and monotonous. We quit having fun and don't have much to look forward to. We reluctantly get out of bed to the same old grind with few good things to be excited about. In fact, multiple polls document that half the workforce is unhappy. We sometimes get stuck in jobs that we don't enjoy though they pay the bills. When asked what we do, our ego says, "I'm the manager for a successful corporation" instead of responding with passion, "I'm a very happy ___." You fill in the blank. George Burns noted, "I would rather be a failure at what I enjoy than succeeding at something I hate." It's rare, but thrilling when I hear, "I love my job." since employment satisfaction and home life happiness are directly correlated.
As our children leave to build their own lives, the nest becomes empty and many couples have no joyful or valuable purpose, especially in retirement. Suddenly, we are in our 50-70's, thinking about what an intelligent friend regretfully shared with me, "This is not the life I imagined." Some call this a midlife crisis, but it's a state of unhappiness that has been ingrained in us over time. We mistakenly believe that the responsibility of making us happy comes from things outside ourselves like jobs, money, possessions, and other people, perhaps our spouses.
Once we realize we're unhappy, we experience regret and blame others. Studies also revealed that most people aged 50-59 rated their quality of life as unfavorable, but individuals aged 70+ were the happiest. We begin looking for greener pastures, not realizing that although the grass across the fence "appears greener," it's just as hard to cut. Current divorce rates are 42 percent for first-timers, 64 percent for the second, and a whopping 73 percent for third-go-rounds. Children of divorced parents are four times more likely to sever their marriages. Researchers discovered that 50 percent of divorcees wished they had worked more on their marriage before ending relationships. Don't we all, looking back on our pasts, "ache to undo what cannot be undone?"
On brighter notes, the average marriage age now is 35 and fewer in this group are divorcing. Is it because their brains have matured and they are making good decisions? Perhaps they have taken time in selecting the right mates, as Smokey Robinson and the Miracles sang about getting married, "My Mama told me….you'd better shop around." This song's content has much relevant meaning for us today.
Most of the time, there could be green, luscious scenery all around us if we just took the time to slow down, appreciate, and cultivate what we have. The Wall Street Journal published an excellent article on 6/13/2022 titled "You Only Have So Much Time. Are You Using It Correctly?" by Rachel Feintzeig asked: "Are you doing what matters?"
The Bottom Line: Oliver Burkeman, author of "Four Thousand Weeks" recommends: "Let go of this fantasy that you're going to get your life in full working order" and "Do the most important things." Again, we have to pose the question: "Where are you right now in this crazy, unpredictable, and stressful world that sucks so much energy, joy, and happiness from our personal, professional, spiritual, and retired lives? Why aren't you joyful and happy?"
Our next articles will share positive strategies for developing new future outlooks. It's never too late to be happier and joyful, so stay tuned.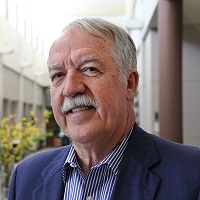 Our family's purpose is to "Create Opportunities to Improve Lives." Visit Mike's non-profit website www.mikedubose.com for 100+ published articles by him, along with co-author, Surb Guram, MD, on many, different topics and his books. You can write him at [email protected].