Dutch Fork High School senior wide receiver Antonio Williams is one of 17 athletes who has been nominated for the 2021 Richland County High School Football Player of the Year award.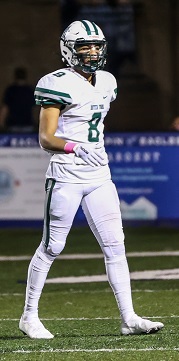 The award is presented annually to the top varsity high school senior football player in Richland County who demonstrates great character, sharp intellect, community involvement, as well as academic and athletic excellence. The selected winner of the award will receive a $2,000 scholarship.
"Antonio is a dynamic player that can score any time he touches the ball," said Dutch Fork High School head coach Tom Knotts. "He excels at both wide receiver and punt returner. He is certainly deserving of this award."
The winner is selected by a panel of voters from local Columbia media outlets and 17 head football coaches from each high school in Richland County. Each voter selected their top 5 nominees in order. Each ballot included at least one player representing Richland District 1, Richland District 2 and the South Carolina Independent School Association (SCISA). Head coaches were not allowed to vote for their own players.
The winner will be announced during a virtual ceremony held December 2, at 6:30 pm.
Photos by GoFlashWin.com